We seem to be having another of our interminable winter days, so I have entertained myself by concocting an Album of
tulip images
to post on our website
It is always a cheery process to view the flowers of spring.
We seem to accumulate tulips in dribs and drabs over the years, with some getting to be great favourites.
Those that perform well, and are good "perennializers" fit that bill.
Our earliest tulips seem to consist of many unnamed varieties, but they are welcome never-the-less.
I try to get a new species type or two each year, since they tend to repeat quite well.
Praestans unicum is one of the earliest, and most vivid of these. The variegated version is great for foliage alone.
Tulipa tarda is another very prolific species, and seems to spread by seed as well as new bulbs.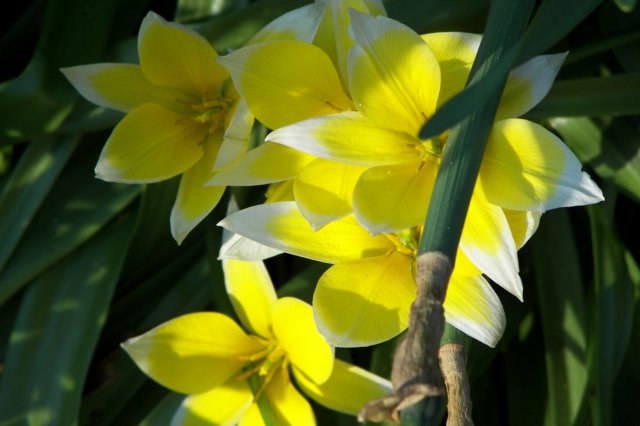 Many of the quite late Darwin tulips seem to be good choices. Among our favourites is the very beautiful, and elegant 'Spring Green'.
I sometime think if I could only have one tulip (a laughable notion!) this would be the one. It blends beautifully with all the spring garden plants, and has a long bloom period.
Pink flowers of any species are among those I choose, and 'Ouilliles' is probably my choice here.
Too bad the word is so unpronounceable, and a downright challenge to spell!