Growing rhododendrons may have an ultimate aim for beautiful flowers in the spring months, but other features provide interest at other times of year. Flowers only last 2-3 weeks, so it is good to have virtues all year.
Many of the rhododendrons we grow have been selected for interesting foliage. The emerging new growth shows great variety in leaf form, texture and colour.
One of our all time favourites with respect to wonderful foliage was a cross of (R. yakushimanum x R. pachysanthum) done in 2001 by Joe Harvey from B.C. Many of these plants have found their way into the gardens of ARHS members, but some have stayed with us. We have dubbed then "Blue Heaven" because of the lovely blue-gray tomentum that appears each summer.
All have nice furry indumentum which stays after the tomentum wears off as the season progresses.
We have a duplicate seed lot(ARHS06#49) of this same cross grown in 2006. Many show the nice characteristics of the 2001 plants. There is some variation in degree and amount of tomentum. It is remarkable that the plants from the 2001 seeding have not bloomed yet. We are not really disappointed in that feature since they more than hold their own in the garden.
R. pachysanthum is quite predictable in producing tomentums of some nature on almost all offspring of any hybrid cross. We have quite a number of hybrids from various seed lots. One other notable feature of the R. pachysanthum crosses is the very early bloom time. Bloom time here in Antigonish is usually around May20th, a week or more before many of the other large leaf rhodies bloom.
Three of our favourite R. pachysanthum crosses are 'Henry's Red' x R. pachysanthum, 'Janet Blair' x
R. pachysanthum, and 'Calsap' x
R. pachysanthum.
Leafy growth is the main feature of a couple of plants we have referred to as the "Bear Cubs". These are a cross of 'Teddy Bear' x R. rex. The tenderness of R. rex doesn't make it the most logical candidate for here in Northern N.S., but the 'Teddy Bear' parent seems to impart a necessary bit of hardiness. We were surprised by an actual flower on one of these plants this spring. Hopefully as the plant sets buds on the upper parts they will withstand winter!
They make quite large leaves, and have furry tomentum on the new leaf surfaces and along the stems.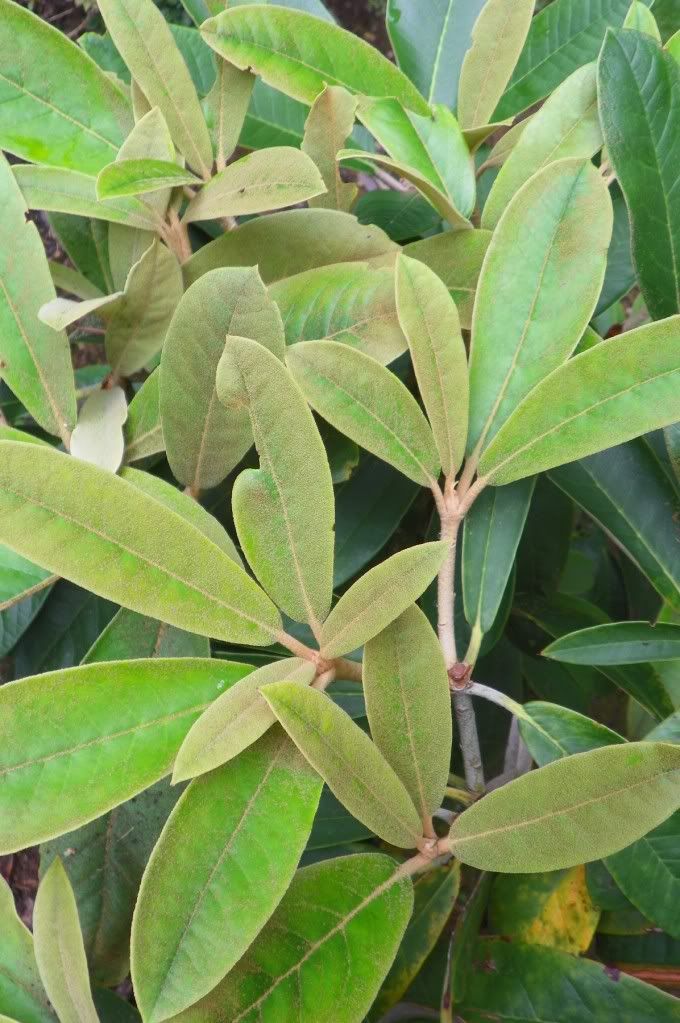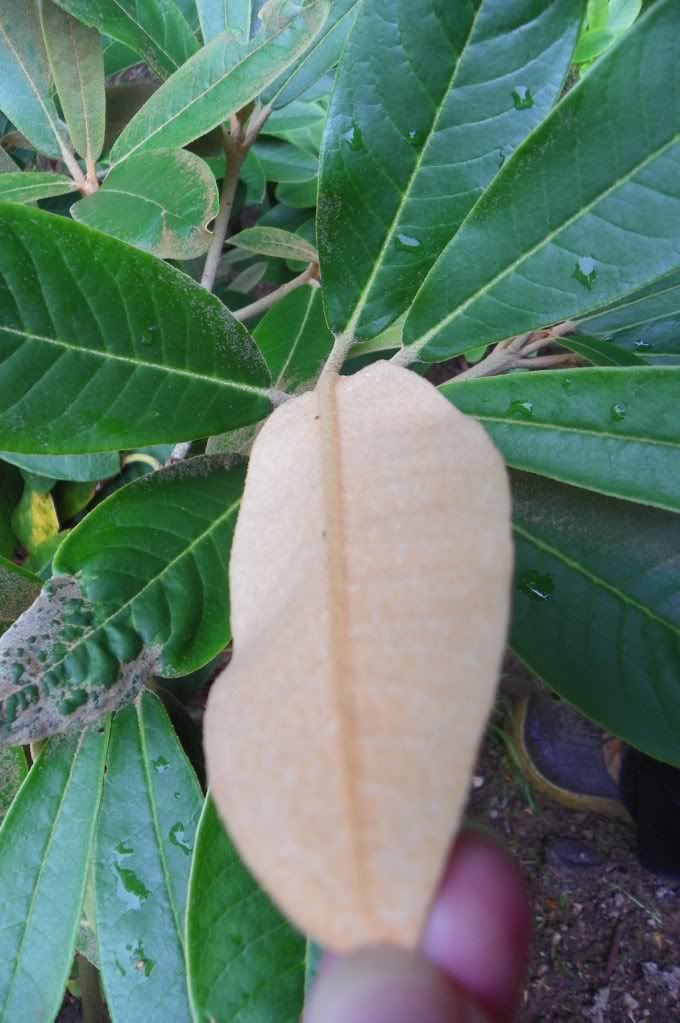 "Bear Cub" tomentum
Many seedlings give a hint at future performance , even when quite young. Some of the plants from 2008 seedlots are showing quite exuberant colouring on some of the new growth.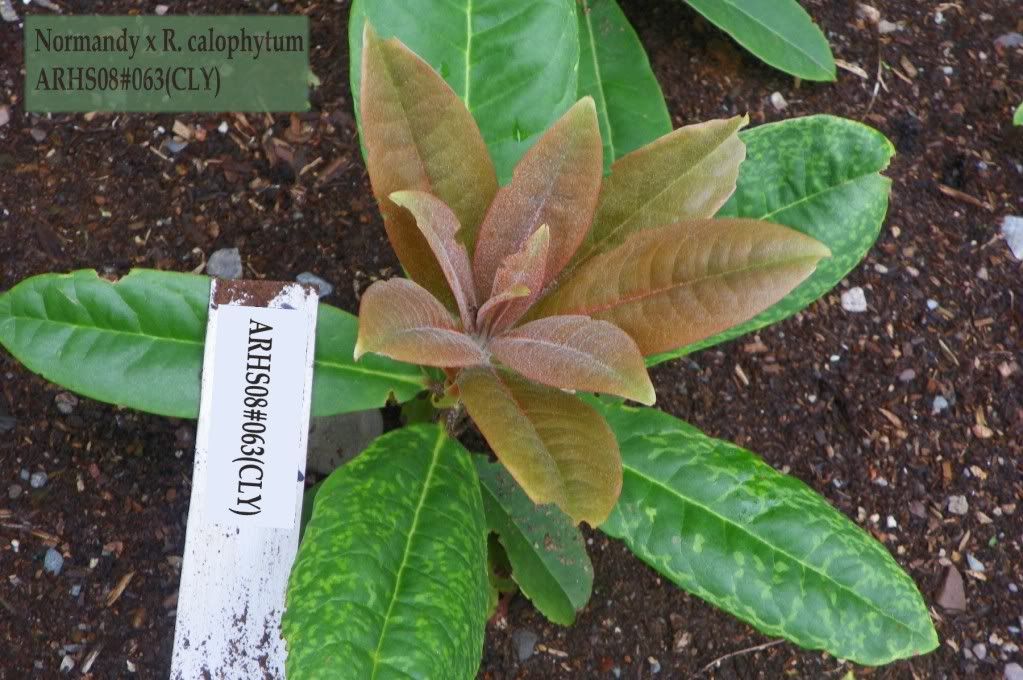 This 'Normandy' x R. calophytum cross will hopefully be an improvement on the species as we see it here. It seems to struggle just a bit, some years doing very well, others years not so well. Several of the R. calophytum species were grown by Bill and have found their way to ARHS members' gardens. It would be interesting to know how they are faring.
It is anyone's guess as to what may actually transpire at maturity, but colourful new leaves are enticing.